We are block of businesses and residential spaces at the corner of West Broad Street and North Westmoor Ave. in Columbus, Ohio.
We are all about celebrating the Hilltop's history and embracing the future of our neighborhood.
Through our businesses we seek to continue to celebrate and connect the great community of the Hilltop neighborhood in Columbus.
Support local and shop our businesses.
Broad & Westmoor serves as a catalyst for people-centered community development on the Hilltop on Broad Street.
On the block by Third Way Cafe – 3058 W. Broad Street at select times.
MARK YOUR CALENDAR AND JOIN US ON THE BLOCK!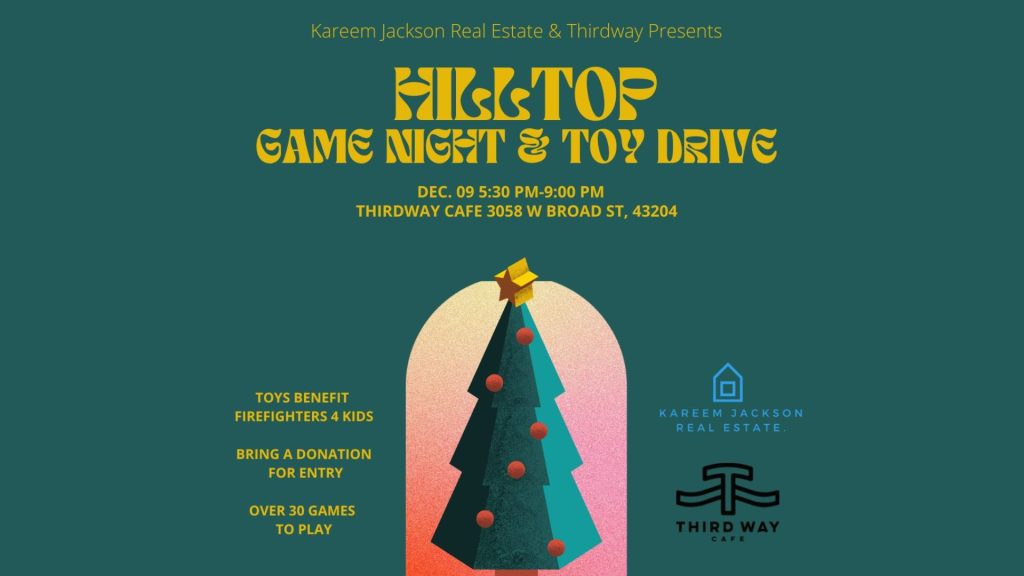 Kareem Jackson Real Estate and Third Way present…
"Hilltop Game Night and Toy Drive"
FRIDAY, DECEMBER 9, 2022 AT 5:30 PM – 9 PM, AT THIRD WAY CAFE
3058 W. Broad st.
OVER 30 board games available to play
Espresso/alcohol bar open
Bring a toy donation for entry
The toys benefit "Firefighters 4 Kids"
Come support the Columbus Firefighters toy drive and the youth of our city.
All AGES WELCOME
RSVP OPTIONAL
DECEMBER HOLIDAY MARKET
Saturday, Dec. 10th, 10am – 2pm, on the block at Broad and Westmoor.
HOLY CREPES FOOD TRUCK until noon.
Third Way Cafe – Shop vendors at the coffee shop

Pictures with THE Santa Clause
Card making and cookie decorating with @sliceofheavencbus
Shop local makers and vendors and get your favorite holiday drink.

The Design Refinery – Pop-up vendor holiday market.
Clay Street Ceramics – Paint your own pottery for the holidays!
Koko – Koko opens at 10am.